Multi-lingual transcription support and minutes PDF download
In this changelog we discuss support added for real-time transcription and file upload transcription for German, Italian, Dutch, and Russian, along with PDF downloads.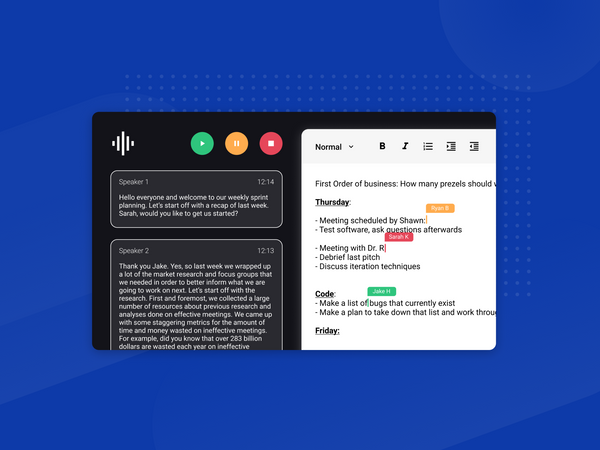 Hello! We've been quietly updating Knowtworthy for the past little while and this post will get you caught up with the latest features that we released this past week.
As always, we would love to hear your thoughts on our community page here: https://community.knowtworthy.com/
We are currently gearing up to release to a 1.0 and will post a full change-log of all of our new features and changes since our Beta when we launch!
Changelog
New
There is now an option to export a PDF of your meetings for distribution or local storage. Visit Meeting Details in any minutes document to access the feature.
File upload transcription is now supported by all Knowtworthy transcription languages.
Support for new real-time and file upload transcription languages added: German, Italian, Dutch, and Russian. This adds to our existing support of English, French, Spanish, Mandarin, Cantonese, and Portuguese.
Improvements
Logging in can now be done by pressing Enter on the login page instead of needing to use the button.
Login page now autofocuses on first field for quicker login procedure.
When writing an Agenda, the following new Agenda item will open automatically on pressing Enter to submit an item.
Next Action item opens automatically after submitting current action item with Enter.
Fixes
Corrected double scroll-bars on Account details popover on navigation menu.
Fixed positioning of the Create button, allowing for fluid navigation menu scrolling.
Fixed Create button styling - it looks nicer now.
Removed voice print upload for now. Will be added back when Sentiment Analysis feature is released.