New Org Management Features, Quick Actions, and More!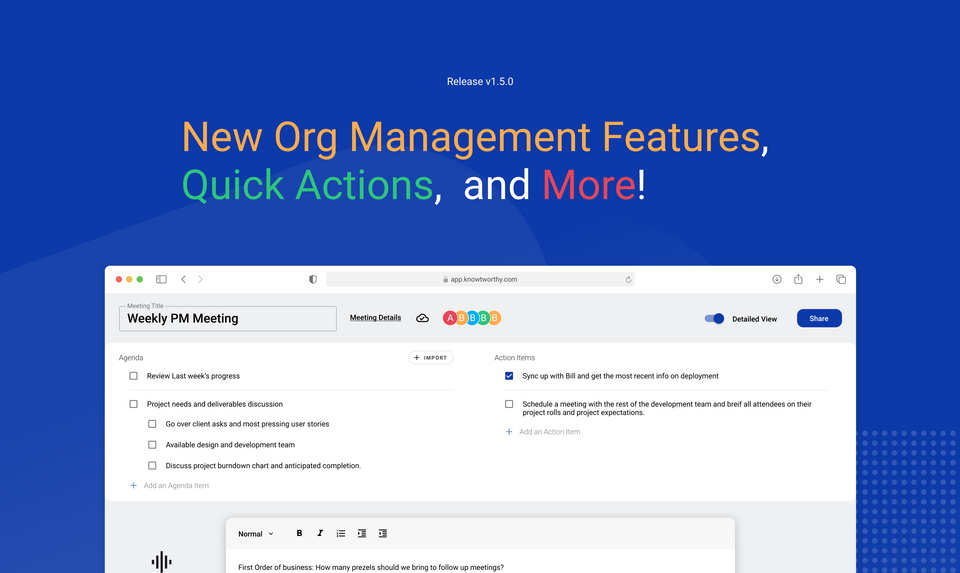 Hello everyone! We are happy to release a bunch of new features and improvements for you all to use! Version 1.5.0 added a number of quality-of-life features as well as the ability to further customize your organization to ensure that Knowtworthy fits your use case whether you are a small startup or a huge agency!
We'd like to thank everyone for voting for the main features represented here on our Trello roadmap: https://trello.com/invite/b/p6BM4lBu/0d4bb05bda3a71098602b5b1698e4c33/roadmap. We are working on identifying the feature set of our next release and your votes have been very helpful!
As always, we'll create a post about this release on our community page (https://community.knowtworthy.com/) and look forward to hearing your thoughts there!
Changelog
New
Independent Teams - Business Tier - Workspace Administrators can now choose whether or not organization members can see the members of other teams. This feature gives you the flexibility to run your organization as an agency with independent teams that don't know of one another. Learn more about exactly how this changes your organization in our Guide Post: https://knowtworthy.com/guide/creating-independent-teams/
Folder Renaming - All Tiers - Users can now rename folders within organizations or within "My Meetings". Simply hover over a folder and click the three-dot icon that appears. Hit 'Rename' and you can choose any other preferred name. No need to recreate misnamed folders anymore!
Contextual Quick Actions - All Tiers - Quick Actions on your dashboard have been improved. When you hover over the plus next to the search icon in the top right corner of any page of your dashboard containing meetings or folders, you will now have the choice to either create a new meeting, a new folder, or add team members in this context. The button knows which folder you are in, so if you ever need to add members to any of your teams, simply hover over the plus, select "Add Members" and you'll be taken to the correct page in your organization settings.
New Guide Link - All Tiers - The navigation menu in Knowtworthy now has a "Guide" tab right above your personal profile which will redirect you over to our searchable guide and give you the ability to quickly learn about new features and get your questions answered.
Name > Email - All Tiers - We've added the option for you to add your name in your personal settings so that when adding teammates to meeting, sharing minutes, or assigning action items, you can search for people you know instead of needing to know every email by heart. Similarly, the cursors of your teammates in collaborating minutes sessions will now have names used instead of emails.
Improvements
We improved the error messaging surrounding signups through SSO services to help users understand why they are getting login emails even though the email they are using is the one associated with their account.
CNAME features were moved to the "Organization" tab of settings and additional validation logic was added to make the process of setting up your CNAME simpler and more intuitive.
The "Teams" section within Organization settings was improved with a cleaner UI.
Dashboard onboarding seen by first-time users of the platform now has supporting images and clearer descriptions to help users make the most of Knowtworthy right off the bat.
Fixes
Some users who had CNAME features enabled reported getting served the wrong SSL certificate when accessing their Knowtworthy accounts. This issue was resolved and only the corresponding certs will be served once they are created.
A number of UI tweaks throughout the application (especially in settings!) for a clearer mobile experience.