Using Social Login to Access your Knowtworthy Account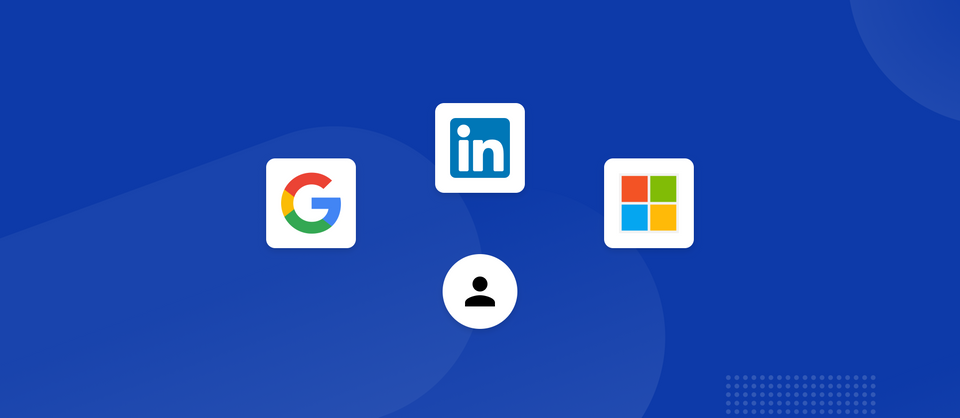 Knowtworthy has you covered with Social Login through Google, Microsoft, or LinkedIn when you need to access your meetings on the fly. You can either create a new Knowtworthy account or sign in by using social login.
---
What you will need
An account with any Knowtworthy Plan
That's it!
---
Creating an Account
If this is the first time you are visiting the Knowtworthy platform, click on Sign Up on the home page and you'll be redirected to a view like the one you see below.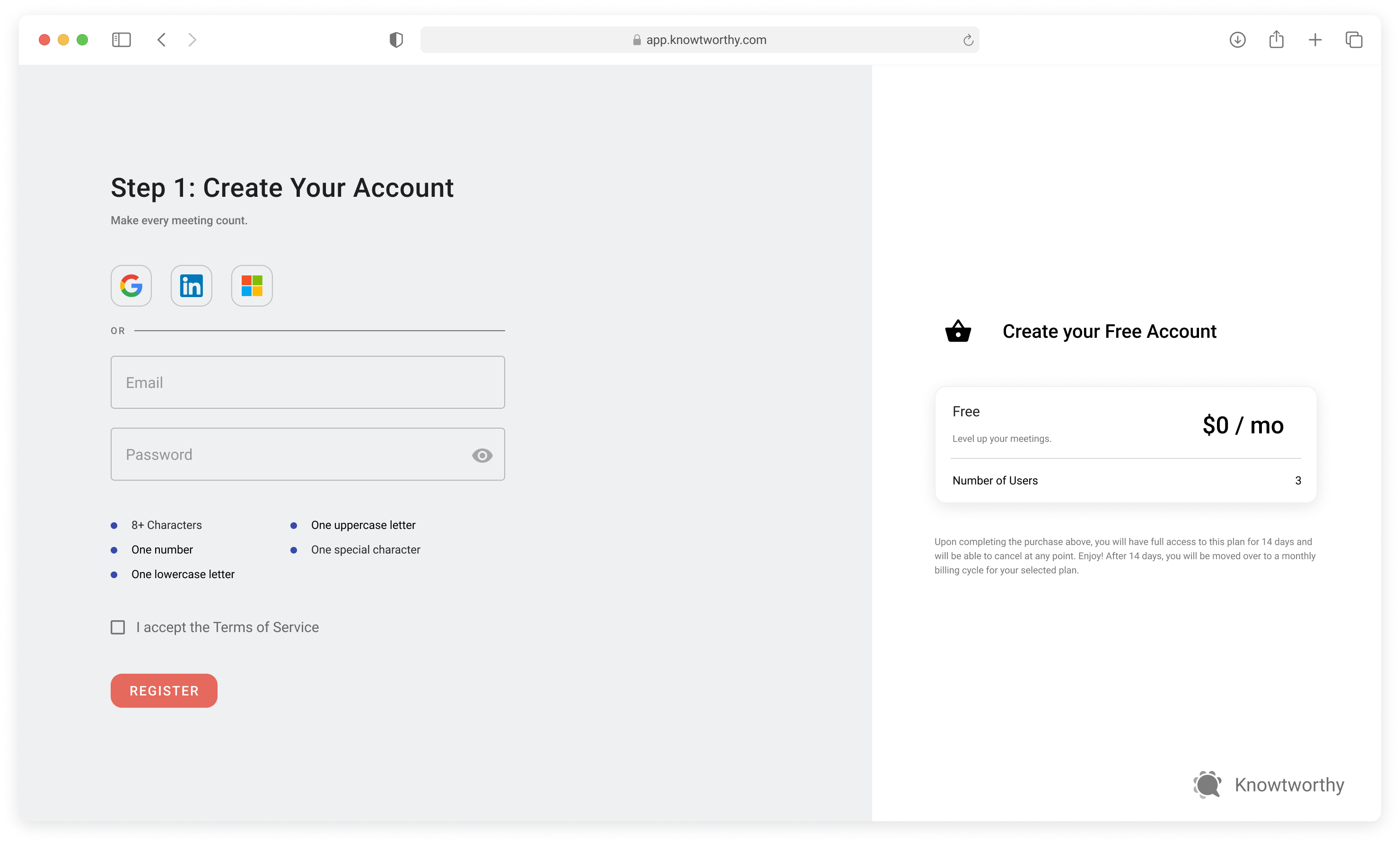 From here, instead of entering an email and a password, click one of the social icons to get started. A popup will appear for the service you selected. Log in through that popup and you will be redirected to the next screen in the account creation process.
That's all there is to it! From now on, when prompted to log into Knowtworthy, simply use that social account to access your account.
Logging Into an Existing Account
Logging in with a social account is easy as well. Start by clicking Log In from the Knowtworthy home page. If you have been signed out, you will see a screen like the one below.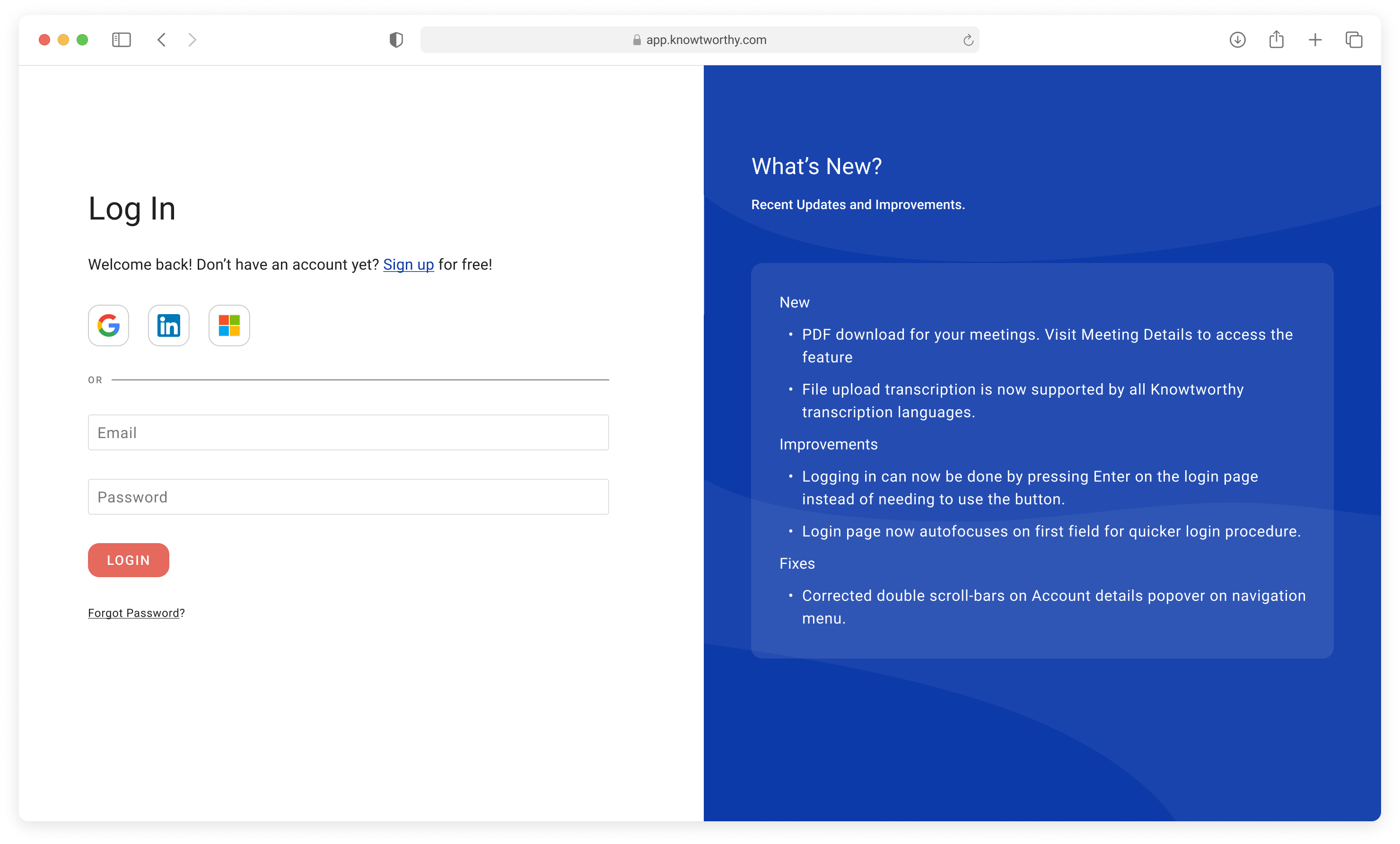 From here, please choose the social account that you signed in with the first time you created your account to continue. Once you log in through the popup, you will be redirected to your account!
Linking Multiple Accounts
You can also use multiple social accounts to log in with Knowtworthy, or even add a social account on top of your regular email-and-password login. The key to doing this is making sure that the primary email associated with your social account is the same as the primary email designated on your Knowtworthy account.
For example, if you sign up with an email and password using an email like example@gmail.com, you can later log into the Google account that uses example@gmail.com and you will be redirected to your account. You can even add additional accounts (such as LinkedIn or Microsoft in this example) if they use the same primary email.
Note: If you choose to change your primary email on Knowtworthy in the future, you will still be able to log in with these social accounts once they have been linked to your account once.
---
That's all there is to it! Enjoy signing in with a single click from now on!